>
HOME
>
STEWARDSHIP
The following is a copy of the current Mid-Atlantic United Methodist Foundation's e-newsletter. You can have this newsletter delivered directly to your inbox every week by subscribing on the Mid-Atlantic United Methodist website right here.

Charting Your Course in a Sea of Change
How do you react to change? Are you one that embraces new opportunities? Are you uncomfortable with change?As we learned with our Easter worship, life, death and resurrection leads to a new life no one ever expected. A life that continually transforms the world we live in and ourselves. What will your life and the life of your church be as we chart a course in a sea of change for the UMC?

This fall there will be an opportunity to listen, learn, plan and transform your life and the life of your church.

The Financial Leadership Academy (FLA) is back starting this September. This premier education offering is designed to improve Clergy financial literacy and support a local church team in applying new stewardship concepts. The program's focus is both education and application that will ultimately lead to financial change and ministry funding stability. With change coming, is there a better time for this opportunity?

If you need to improve your annual, capital, or legacy giving this is the program for you. All the successes of the past programs have been enhanced even more with this updated program. The program will also address expected Denominational changes and the impact on donor support.

Unique to this program are International Coaching Federation Trained Coaches. The student and the church are continually supported by trained coaches to assist in both personal improvement and local church change. Success can be yours if you chart a course to that destination.

More information can be found at: wwwnmidatlanticfoundation.org or call Associate Director Frank Robert
410-305-3475. Mention that you are a MAUM Foundation client to receive a $300 discount.
   
Asset Allocation

Have you recently reviewed your Asset Allocation? Your Allocation to Equities, Fixed Income, and Cash will have a greater impact on performance than selection of investment manager. To get allocation right for your church ask for our Risk Profile Assessment tool. Please call today to receive your copy.

IRA and Giving

Did you know you Senior Citizens can use an IRA for Charitable contributions?
For more info please visit www.maumflegacy.org


I welcome your calls and questions. The Foundation is your partner with incomparable vision and services to fund ministries. Please reach out to me with any concerns.

Be the Blessing,


Jack Brooks
Executive Director
Mid-Atlantic United Methodist Foundation
800-828-9092 Ext: 1008 


Year End 2018 Client Investment Review Call and Webinar
The event was presented on Thursday Feb 7, 2019 3pm
Link to the presentation materials:
Webinar-2-07-19-Year-End-Review.pdf

Jack Brooks, Executive Director; Mid-Atlantic United Methodist Foundation
Keith Aleardi, Chief Investment Officer; Fulton Financial Advisors
Rob Morgan, Chief Investment Officer; Mid-Atlantic United Methodist Foundation

More Detailed Information is Available at
www.midatlanticfoundation.org     Or    call the Foundation office at 1-800-828-9093 Ext 1008

To contact Rob Morgan for a portfolio review or to discuss a new investment opportunities please contact Rob at the Foundation office at 800-828-9093 Ext 1008.

www.midatlanticfoundation.org
Legacy and Planned Giving:
www.maumflegacy.org

Have you completed your Asset Allocation review?
A tool to review your Risk Profile Assessment is available.
For a copy please contact:
Tracy Brown, Operations Manager at 484-762-8211

Be the Blessing,
Jack Brooks
Executive Director
Mid-Atlantic United Methodist Foundation 

For more information call us at 800-828-9093 Ext 1008 or visit our Website: www.midatlanticfoundation.org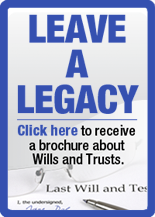 PERSONAL PLANNER
About 15 years ago Linda's father passed away. As her inheritance, she received a commercial lot that was a mile outside of town. At the time she received the inherited property, it was worth about $100,000.
SAVVY LIVING
What is the best and environmentally safe way to dispose of old and unused medications? My mother has a medicine cabinet full of pills, some of which have not been touched in 25 years. I would like to clean it out for her.
DONOR STORY
Several years ago Larry and Allison invested $30,000 in what they believed to be an attractive stock. It turned out to be a very wise decision.
WASHINGTON NEWS
Each year, the nonpartisan Tax Foundation announces the date of Tax Freedom Day. Tax Freedom Day represents the day when taxpayers have earned enough to satisfy the nation's tax bill for the year. For 2019, Tax Freedom Day falls on April 16. This is 105 days...
FINANCES
Stocks - Twitter's Shares Soar Read more
Bonds - Treasury Yields Slip On Rising GDP Read more
CDs and Mortgages - Mortgage Rates Increase Read more
Thank you for your interest in planned giving. To access any of our resources, please go to our website.
---
Mid-Atlantic United Methodist Foundation, PO Box 820, Valley Forge, PA 19482
© 2018 Crescendo Interactive, Inc.