>
HOME
>
STEWARDSHIP
The following is a copy of the current Mid-Atlantic United Methodist Foundation's e-newsletter. You can have this newsletter delivered directly to your inbox every week by subscribing on the Mid-Atlantic United Methodist website right here.


Happy Labor Day Weekend,

For the Latest Information Please Visit our Websites
www.midatlanticfoundation.org under the Investments Tab
Legacy and Planned Giving:
www.maumflegacy.org

Have you completed your Asset Allocation review?
A tool to review your Risk Profile Assessment is available.
For a copy please contact:
Tracy Brown, Operations Manager at 484-762-8211

Be the Blessing,
Jack Brooks
Executive Director
Mid-Atlantic United methodist Foundation 

 

For more information call us at 800-828-9093 Ext 1008 or visit our Website: www.midatlanticfoundation.org
You are receiving this informative e-newsletter as service we are providing to our friends and supporters. You will find up-to-date, helpful information on topics that impact your quality of life, your finances and your legacy. We are pleased to share with you the latest news from Washington, Savvy Living, Personal Planner, gift stories, finance news, and timely articles. Please contact us if we can run a proposal or be of assistance.
Jack Brooks
Executive Director
---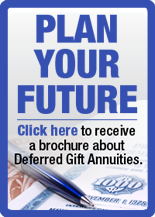 PERSONAL PLANNER
"My brother Pete and I own a ranch together," said Joe to his advisor. "We inherited the four sections of our ranch from my mother. As a single person, I think that I will plan to leave 50% of my share to Pete and the other half to my favorite charity.
---
SAVVY LIVING
How does health insurance and Medicare cover health care outside the U.S.? My husband and I have a trip abroad planned this fall and would like to find out if we should buy extra insurance. What can you tell us?
---
DONOR STORY
Peter and Gail were nearing retirement. Over the years, with the help of their financial advisor, they made solid investments in securities.
---
WASHINGTON NEWS
In IR-2018-177, the IRS continued its series on data security. These are part of the "Protect Your Clients; Protect Yourself: Tax Security 101" campaign. While this series is directed at CPAs and other tax professionals, these safety tips are useful and...
---
FINANCES
Stocks - Vera Bradley's Earnings Soar Read more
Bonds - Strong Jobs Report and Wage Growth Buoy Treasury Yields Read more
CDs and Mortgages - Mortgage Rates Increase Read more
---
Thank you for your interest in planned giving. To access any of our resources, please go to our website.
---
Mid-Atlantic United Methodist Foundation, PO Box 820, Valley Forge, PA 19482
© 2018 Crescendo Interactive, Inc.