>
HOME
>
STEWARDSHIP
The following is a copy of the current Mid-Atlantic United Methodist Foundation's e-newsletter. You can have this newsletter delivered directly to your inbox every week by subscribing on the Mid-Atlantic United Methodist website right here.

Dear Friend,

In the Face of Change, Your Assets Are Secure

The Mid-Atlantic United Methodist Foundation (MAUMF) is aware of the potential change coming to the United Methodist denomination in seeking a path forward. We want to assure the churches that invest with MAUMF that your funds are secure:
Each church has signed an individual account agreement with the MAUMF
The assets that are on deposit with the MAUMF are the church's assets to hold
We take instructions only from the church's designated representatives
Asset allocation and investment decisions are made by the church
Our Understanding of Future Needs
There will continue to be a need for Stewardship Education to support ministry funding
Donors will need greater transparency of understanding how contribution are used
The need for clearly defined investment policies and procedures will increase
All churches will benefit through the pooling of investment funds in the Foundation's model
There is a need for increased fiduciary oversight of church investment holdings
Over the past two years the Foundation Board of Directors and Staff have been discussing and exploring ways we may continue to provide investments, resources, ideas, and support for all our client churches, congregations, and donors as we live into what comes next.
As part of our preparation we have recently extended our Strategic Plan with specific goals and objectives for 2018 through 2020. Additionally we have formed a Vision Team that is work in partnership with the Foundation's consultants, legal counsel, service providers, experts, and other denominations to develop ideas for our long-term future. We lead other United Methodist Foundation by hosting a conference titled "Designing Your Change" where we exchanged ideas and listened to others facing the uncertainty of change.
Our plans remain quite flexible and will continue to be refined as the process moves forward with the Commission's recommendation and the 2019 General Conference's decisions.

For the Latest Information Please Visit our Websites
www.midatlanticfoundation.org under the Investments Tab
Legacy and Planned Giving:
www.maumflegacy.org

Have you completed your Asset Allocation review?
A tool to review your Risk Profile Assessment is available.
For a copy please contact:
Tracy Brown, Operations Manager at 484-762-8211

Be the Blessing,
Jack Brooks
Executive Director
Mid-Atlantic United methodist Foundation 

For more information call us at 800-828-9093 Ext 1008 or visit our Website: www.midatlanticfoundation.org
You are receiving this informative e-newsletter as service we are providing to our friends and supporters. You will find up-to-date, helpful information on topics that impact your quality of life, your finances and your legacy. We are pleased to share with you the latest news from Washington, Savvy Living, Personal Planner, gift stories, finance news, and timely articles. Please contact us if we can run a proposal or be of assistance.
Jack Brooks
Executive Director
---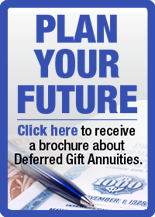 PERSONAL PLANNER
Who Will Receive Your Property?
"Who should receive my property?" asked Helen to her attorney, Clara. "There are so many decisions to make. Since Morgan passed away, I need to make these decisions myself..."
---
SAVVY LIVING
'Extra Help' Program Helps with Medication Costs
Are there any special Medicare programs that help with medication costs? My 74-year-old mother, who lives primarily on her Social Security, takes several high-priced drugs that sap her income even with her Medicare drug plan.
---
YOUR PLAN
Mary grew up on a farm. When her parents passed away, she inherited the farm. Now, several developers would like to build homes on the farmland.
---
WASHINGTON NEWS
Two-Income Families Benefit from "Paycheck Checkup"
In IR-2018-124, the Service offered a "Paycheck Checkup" for families with two incomes. The IRS Withholding Calculator on www.IRS.gov helps couples with two or more sources of income to adjust their withholding amounts.
---
FINANCES
Stocks - Tiffany's Sales Sparkle Read more
Bonds - 10-Year Treasury Yield Slips Read more
CDs and Mortgages - Mortgage Rates Move Higher Read more
---
Thank you for your interest in planned giving. To access any of our resources, please go to our website.
---
Mid-Atlantic United Methodist Foundation, PO Box 820, Valley Forge, PA 19482
© 2018 Crescendo Interactive, Inc.