>
HOME
>
ABOUT US
>
Worship & Sunday School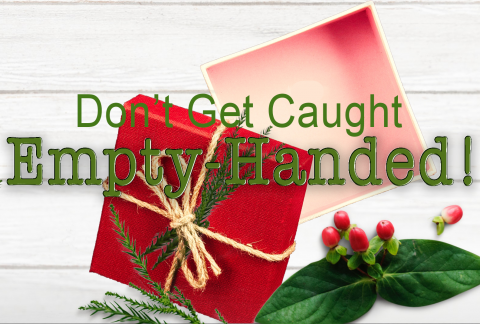 Don't Get Caught Empty-Handed!
That was the subject line of one of the hundreds of emails that I get each day this time of year imploring me to buy things. Don't get caught…  it feels like a warning; like I'll have to pay a steep fine or that I'll be shunned if I don't have just the right gift — or any gift! — for every person I'll encounter over the next few weeks. 
This week's discussion was Worship Fully, and so we talked about what worship is. We threw out lots of things including going to church, singing, praying, reading the Bible and meditation. But after our gathering, I came across a powerful description of worship courtesy of the creators of Advent Conspiracy:
"Our hearts are formed by what we worship."
In the weeks leading up to Christmas, it is easy for our hearts to be formed by the frenzy of the season. We are in the throes of cooking, cleaning, buying, decorating, and planning in the name of being prepared — we're attempting to not get caught. But we rarely stop and think about what it is that we're preparing for. 
This week — and throughout Advent — take some time to worship more fully. Give yourself a few minutes to let your heart be formed by the awesome gift that God gave to us. 
---
CSA Youth and Young Adults are on a journey this Advent. We're conspiring to make Christmas more meaningful through Advent practices that allow us to Worship Fully, Spend Less, Give More, and Love All. Join us after worship on Sundays from December 2-23 in the youth room above the Narthex.